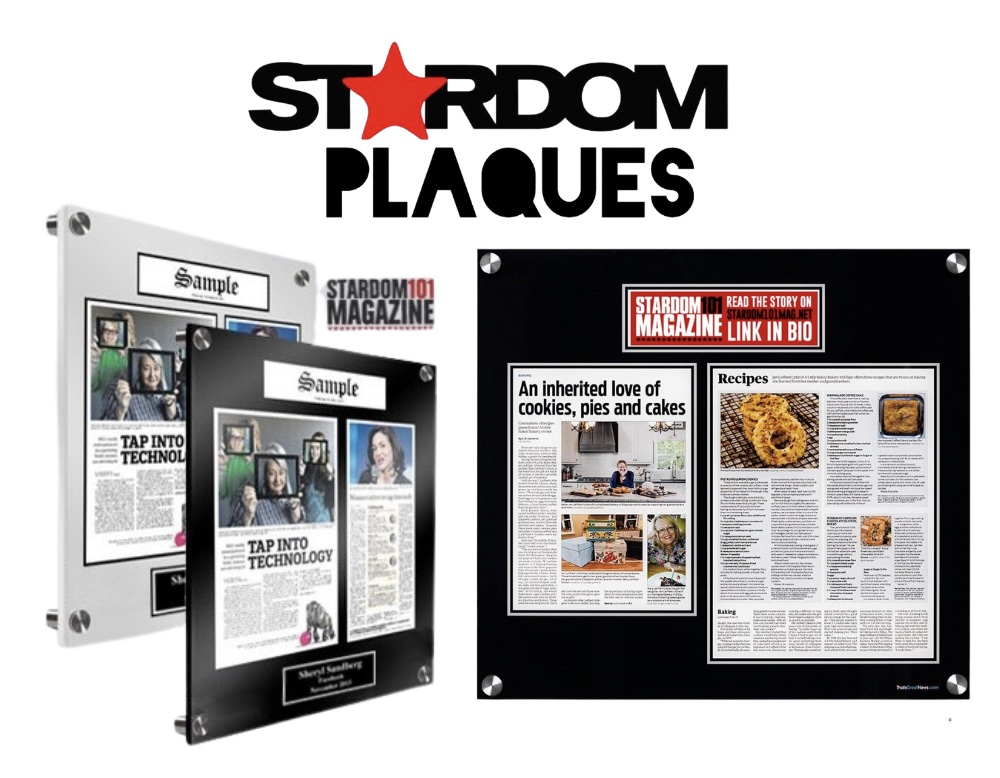 The Easiest Way to Display and Market Your Article, Press Release or Cover
We do everything for you. From getting the original article to graphical design, layout, publishing and plague production.
Get Your On The Rise To Stardom News On a Custom Plaque Today!
High Quality, Robust and Beautiful Recognition Products on your Wall 
Our plaques are ideal as a milestone award, service recognition or special celebration achievement. Equipped with an ease on the back for bookshelf display or to hang.
About: Stardom Plaques
 is a leading awards company supplying custom team awards and plaques. We offer the most comprehensive collection of theme inspired awards produced from quality materials. 
We have a highly experienced team that manufactures products of the highest quality utilizing materials such as acrylic, wood & metal stone. 
Mounting Specs: All plaques come ready to hang on the wall.
Lucinda premium always comes with the 4 holes for the mounts- either free standing or wall mounts.
Wood always had a keyhole slot on the back to hang
Metal uses the lip of the backing to hang from.
Additional Add-Ons Options: 
Wall mounting standoffs come free
Stand up table top for acrylic plaques: $15.00 fee
Desktop (frees standing mounts) are $15 fee 
Add your Logo to your plague, Set-up fee: $20.00  (send a .jpg, .pdf or .eps file)
You receive:
A free plaque preview proof before producing your order 
A custom engraved plate with your name, text and date
Your full article with photos on plaque
The plaque includes the front plate masthead
Pre-cut keyholes on the back for easy to hang on your wall accessibility 
You will receive your custom plaque in about 2 to 3 weeks 
BELOW IS A LIST OF STARDOM MEDIA POLICIES 
YOU CAN CLICK TO READ BEFORE PLACING AN ORDER:
 Terms of Service | Copyright | Private Policy | Google News